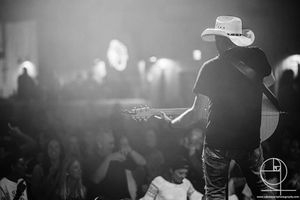 Tim Glenn is a veteran musician, vocalist and songwriter based out of Colorado Springs, Colorado. His music career started in a dorm room at Howard Payne University in Brownwood, TX and has branched over three decades throughout Texas, Tennessee and Colorado.
Tim's first band, Main Street, was signed to a one record deal in 1989. But just before their album, On Bended Knee was released, the label filed for bankruptcy and the recording never saw the light of day. Tim went on to record his first solo project, Shock the World, as an indie artist, receiving high acclaim for his songwriting and vocal talents, winning the Gospel Music Association vocal competition in Dallas Texas in 1992. Part of the prize was the opportunity to open for one of Tim's favorite Christian artists, Morgan Cryar. (Tim even named his first son after him!)
 After a brief stint in Tennessee, Tim moved to Colorado where he served four years as a vocalist for XP, a progressive rock band based in Colorado Springs. During that time, the band released one album, Ten Songs, in 1999.
Tim left the band and branched out once again as a solo indie artist. His project, New Pair of Shoes, was released in 2002 and debuted on iTunes in October of that year. Six years later in 2008, Tim released another solo project on iTunes, titled, So Human. One single, from that album, Open Up the Darkness, reached #12 on the Christian Radio Weekly singles charts. Tim has since released two singles on iTunes-- I'm No Superhero and My Last Glide. He's currently raising funds to record a new album, tentatively titled, Me Versus the World.
 Tim also serves as the lead vocalist for SofaKillers, a cover band that has been voted one of the top bands in Colorado Springs 11 out of the last 12 years. His vocal talents allow Tim to sing a variety of genres with the band, featuring songs from Journey, Def Leppard, Maroon 5, Styx, Toto, Van Halen and even country artists like Brooks & Dunn, Tim McGraw, Luke Bryan and Chris Stapleton.
 In 2004, Tim left his television news career after 13 years as a news anchor and producer. He received many accolades during his television career, including being named Best Male Anchor by the Colorado Springs Gazette in 2003, and Best News Team by the Colorado Broadcaster's Association, also in 2003. Tim has served as a host for several events for organizations like the Colorado Springs Down Syndrome Association, the Alzheimer's Foundation, The American Cancer Society of Colorado Springs, among others. He has also published dozens of magazine and online articles, serving as a ghost writer for other corporate executives and in his own name as well.
 Tim now serves as the Director of Global Public Relations and Public Affairs for Compassion International, a holistic child development ministry that serves over 2-million children in 27 developing countries. He and his wife Jennifer have two sons, Morgan and Grayson. They live in Colorado Springs, Colorado.